Healthwatch Islington wins prestigious national award
Local health champion wins 'Celebrating our volunteer team' category in major national awards scheme.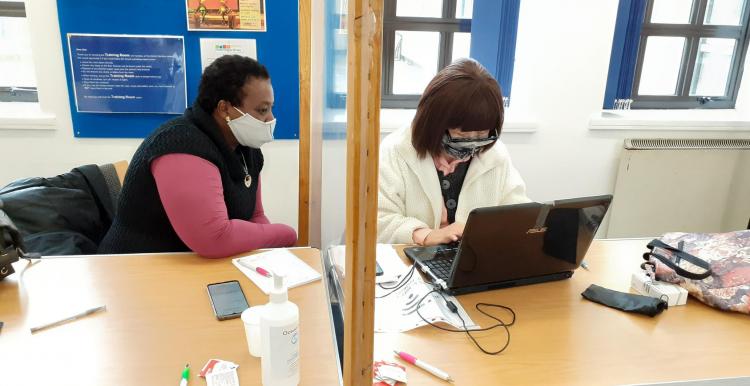 Healthwatch Islington has won a prestigious national award for helping people access health and social care services online during the pandemic.
Healthwatch Islington won the 'Celebrating our volunteer team' category in the Healthwatch Awards 2021, which were run by Healthwatch England.
This virtual event celebrated the difference Healthwatch's 4,300 staff and volunteers made over the past year and Healthwatch Islington was one of only a handful of local Healthwatch to win an award out of a total of 152 across England.
Healthwatch Islington was recognised for its volunteer 'digital champions' who worked to improve the skills of people who were unfamiliar with or without access to the internet, so they could still access vital services during the pandemic. This was hugely helpful after many services quickly moved online.
Receiving the award, Healthwatch Islington Partnerships and Engagement Manager Maria Gonzalez, said: 
"On behalf of Healthwatch Islington I am thrilled to accept this award. We are so glad that the expertise and dedication of our volunteer team has been recognised. Thank you! Volunteers are at the heart of what we do – we couldn't have got through last year without them. The compassion and empathy for residents that they bring to their roles is amazing and so is their lived experience, knowledge, and skills. Some of them have been involved with Healthwatch Islington for many years - others, like our volunteer Digital Champions, have joined us more recently, and have enabled us to provide outstanding support to residents with digital at a crucial time. I would also like to thank our trustees who bring a wealth of experience and commitment to our organisation."
Other Healthwatch Awards winners from around the country include:
Healthwatch Reading for highlighting the issues asylum seekers experienced during when trying to access healthcare during the pandemic.
Healthwatch Essex which launched a campaign in response to reports of people with sensory impairments being verbally abused for inadvertently contravening lockdown measures.
Healthwatch Leeds for highlighting the concerns of care home residents during the pandemic and helping to develop a plan for how families could safely visit their loved ones again.
Sir Robert Francis QC, Chair of Healthwatch England, said:
"The last 16 months have been a time of unprecedented challenge as we all grappled with the impact of COVID-19, yet Healthwatch across England all rose to meet that challenge magnificently and went the extra mile to look after their local communities in a moment of crisis.

"The Healthwatch Awards have been a fantastic chance to showcase how Healthwatch makes such a difference to people's lives and Healthwatch Islington's tireless work for its community during the pandemic is a perfect example of this. I would like to congratulate the Healthwatch Islington team for their achievements and dedication to the local people they serve."
The award was presented during Healthwatch Week – a virtual conference celebrating the vital work of Healthwatch which featured high-profile speakers including NHS England chief executive Amanda Pritchard and historian and BAFTA award-winning TV presenter/producer Professor David Olusoga.
There is a local Healthwatch in each of the 152 local authority areas in England. They supported over two million people to have their say on care or get the advice they need in 2020/21.