Healthwatch volunteer wins prestigious local award
Our congratulations go to David Mallory, who has been recognised as a champion among Digital Champions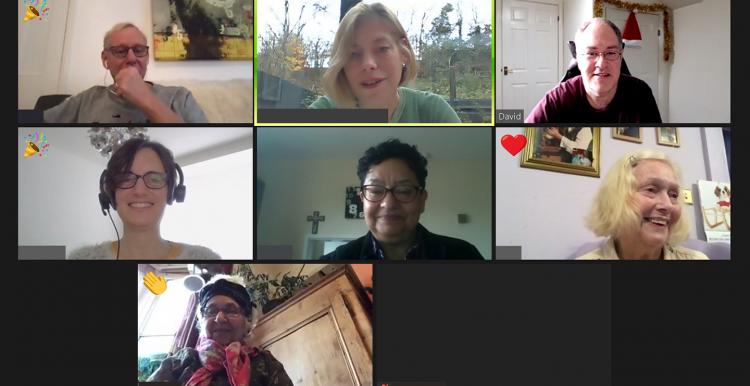 David Mallory (top right) helping local residents get to grips with the internet at one of our regular Digital Drop-ins.
David Mallory has been doing great work as a Digital Champion with Healthwatch Islington since December 2019. He has also been volunteering with Age UK Islington. He was recognised as the borough's Volunteer of the Year at a ceremony hosted by Volunteer Islington last night.
Between January and March 2020 David supported Islington residents who attended our Log On drop in sessions to learn how to use their digital devices better.
As lockdown came into effect towards the end of March 2020, we had to pause this work. Once we had developed a safe way of continuing the project virtually David immediately got involved again. He very quickly stepped up to the mark and started supporting clients on a one-to-one basis, weekly, to learn skills around their digital device.
This project has supported some very vulnerable people locally, who have very complex situations and David has always worked reliably, patiently and skilfully to support these individuals to learn new skills.
Feedback about David
Philippa Russell is the Community Link Worker at Healthwatch Islington. She runs our digital training programme and was full of praise for the contribution that David has made.
David listens to his learners' interests and what they hope to learn, adapting sessions accordingly. His technical knowledge around IT is immense yet he is able to explain and support people at a pace and with language they understand. We have been so impressed by his initiative in supporting people, loading different apps and programs to work step-by-step with learners over the phone. David is always pleasant and reliable, attending sessions on time and fully prepared. He provides clear feedback to ensure we can track the progress with each participant.

We value David's skills and work immensely and he genuinely makes a positive difference to the lives of those with whom he works. We are proud of him and his tireless energy, patience and knowledge and he could not be a more deserving winner of this award.
David is delightful. We have had a great session. Lots of laughing. We went to iPad and we got Zoom working, The session ran over, but he insisted he'd keep going until we cracked it, and we actually saw each other! We were both so excited.
Our congratulations to David, and to all the other volunteers whose contributions were recognised at last night's awards.