Arachne Greek Cypriot Women's Group
Healthwatch carried out an independent evaluation of 'Building and sustaining bridges of inclusion', Arachne's Lottery-funded advice and information project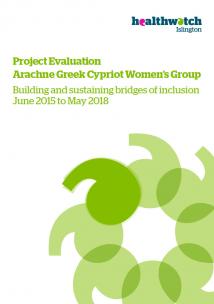 Healthwatch helped us present a compelling case for the need for further funding for our service.
What we did
Arachne had already developed a monitoring and evaluation framework and were 2.5 years into the project cycle. We adapted our approach in order to use the existing framework wherever possible.
We evaluated quantitative data drawn from the project database
We designed questionnaires to generate qualitative data, and we held:
Focus groups with beneficiaries (providing interpreting support as necessary),
One-to-one structured interviews with stakeholders, 
One-to-one structured interviews with academic and voluntary sector partners.
We produced an evaluation report that could be shared with project funders, and a set of recommendations
"They highlighted simple things that we could develop, at no extra cost, to make our own reporting easier in future. We were really pleased with the quality of the evaluation and the report. We were delighted to secure continuation funding for our work."