What are people telling us about e-consult?
For patients who are comfortable using computers e-consult can be a convenient and user-friendly method of getting in contact with the GP surgery. For patients who struggle with or cannot use computers, e-consult can be a serious barrier to access.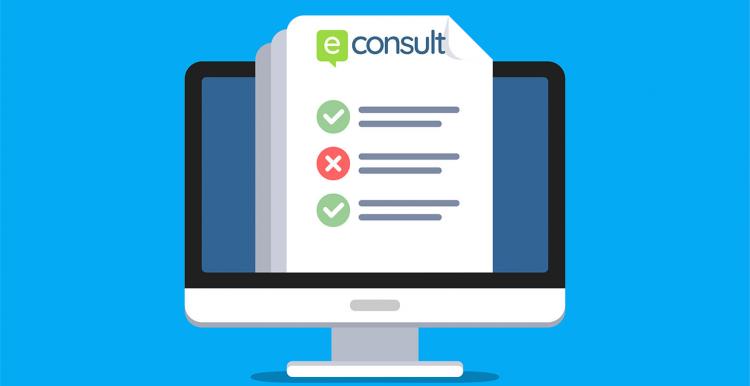 This content is drawn from our report 'From Digital Exclusion to Inclusion'. Read the full report for more patient feedback on e-consult, and on phone and video consultations.
I knew I needed a particular prescription and as I filled in the e-consult I had to keep altering my answers - otherwise I was told to phone 111, so I found it frustrating.
What is e-consult and why is feedback from patients important?
E-consult is an online platform introduced to GP websites to support remote consultations. You complete an online form to describe your symptoms and are directed to an appropriate treatment pathway without needing to speak to a health professional in the first instance. You can also access self-help information and request prescriptions.
We expect that many of the changes we've seen to the way we access health services over the past year, the introduction of e-consult being one of them, will be here to stay. Feedback from patients will help commissioners understand how online and remote health services can be offered most effectively, and ensure that no one gets left behind.
Who we spoke to
We worked with local community organisations to carry out phone surveys with 119 residents. 60 were internet users and 59 were not. We asked them about their experiences of accessing health services during the pandemic, and about the barriers they faced.
We interviewed staff from participating community organisations to find out how services moving online had affected the residents they supported.
We ran an online survey on remote access to health services and also received feedback from individuals who contacted us independently to share their experiences.
What did people tell us about e-consult?
Some respondents really liked it and found it more convenient.
It is difficult to use for those lacking digital confidence.
It is less suitable for people who don't speak English as a first language, those with disabilities, sensory impairments, learning difficulties, memory problems, and mental health conditions. These groups already face health inequalities and the shift to online models of access can make these worse.
The online form took too long to complete.
There were concerns about privacy.
Some respondents felt that e-consult was badly designed.
Ten top tips for using e-consult
Many patients have found e-consult useful, especially during the pandemic. However, e-consult isn't perfect and if you are less confident filling in forms online you might find it difficult to use. We've produced a handy guide. If there are any other tips you think we should include let us know.
Poor design can be a barrier to access
We received plenty of feedback suggesting that the design of the e-consult tool could be improved, the following comment being fairly typical.
"No one has said anything about the design of the form...It went on for pages and pages and was endlessly repetitive. It unnecessarily asked me for my medical diagnoses and my medication list. I just typed in 'see medical records'. It asked me if I drank, smoked, and gambled and I was required to answer or else I could not move to the next page. It took 25 minutes to complete and mostly I kept saying 'as stated'. If I had filled in every page I reckon it would have taken 45 minutes.

These are onerous questions for anyone to fill in, especially if, like me, a person has complex physical and mental health issues. Why whether I drink, smoke or gamble is relevant to a skin rash is beyond me...By the time I finished, I was so angry and frustrated."
People with good digital skills can find their way around poorly designed forms, it's not too much of a barrier for them. However, people who are less confident with the internet can blame themselves and feel they have done something wrong.
Healthwatch Digital Champions help people who are getting started on their digital journey. They told us that the bad design of online platforms was a real barrier for the residents they support.
"Something as simple as e-consult, in theory it's simple but it's very tedious as it's repetitive and asks a lot of what feel like the same questions. That kind of tool is just overwhelming for a lot of the clients. The people we are supporting often have a real anxiety around technology, and bad design of NHS IT platforms doesn't help. Some of this is exacerbated by living alone and not having someone else around to ask, no on-hand support."
Get help with e-consult from a Digital Champion
If you are not used to doing things online and would value further support you can book a session with one of our volunteer Digital Champions. We can walk you through the process and give you the support and encouragement you need to improve your confidence. Contact our Community Link Worker Philippa Russell to find out more.
07538 764436
What else might help improve the experience of completing the form?
Not all parts of the form are relevant for all appointments, and this can be confusing. It might be helpful if the form was redesigned to be context-sensitive so that questions that are not relevant for the type of support that is being requested are hidden from view. "There were many questions about symptoms that were not relevant to my request for an appointment to discuss the blood test result. I had to complete them to be able to submit the form. I instructed the GP to ignore my responses."
The e-consult form asks for information that is already with the GP practice. Patients found this frustrating. If there are good reasons for asking for this information again these should be clearly explained on the form. "When I filled out e-consult it took so long. The form asks about medication details that the GP practice has already."
Where possible, if a patient is clear on their desired outcome, the route to get there should be equally clear. People told us that they found it hard to use the form to get to the outcome they needed. The logic was hard to predict. "I didn't think it was easy, because they sometimes take you in a route and I end up doing the whole thing again and start from the beginning."
It would also be helpful if the form included specific questions relating to the communication preferences of the patient (for example, if there are times of day when it is easier for the patient to answer their phone).
Feedback from community organisations
Staff told us that services moving online had left some residents behind. An emphasis on online services was understandable during the pandemic, but services had been moving online well before Covid. Delivering services online may save costs for providers but small community organisations are having to fill the gaps, supporting clients to access benefits, passports, pay rent, and make council tax payments. Some staff also worried about the message being sent to vulnerable residents by the emphasis on e-consult within primary care.
"Patients calling surgeries are now confronted first by a covid information audio recording and then an additional message instructing them to use e-consult before calling the surgery. These are not welcoming messages, rather they can be construed by patients as 'stay away' and 'send a message and we'll decide whether we want to speak to you'. During this pandemic, patients have been encouraged not to contact their doctor unless it is an emergency. The impersonal barrier put up by e-consult can further dissuade patients from contacting their GP when they may have genuine health concerns."
From Digital Exclusion to Inclusion
We know that there is a huge digital divide in Islington and this is likely to make existing inequality worse if we don't take all take action.