It's a dog's life on Whatsapp - Islington pet owner learns new digital tricks
Patsy used to just use her phone for making calls. Now she can use it to to share photos of her beloved dog with her friends. We hope this is just the start of her digital journey.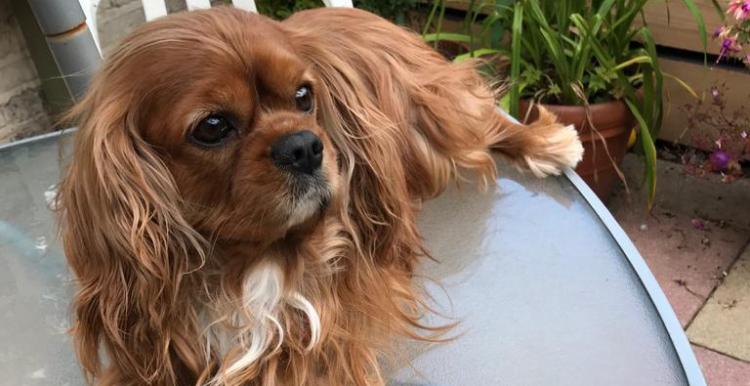 'Guy means the world to me and definitely helps with my mental health.'
'Guy is a Cavalier King Charles spaniel. He is three years and 10 months old and his colour is Ruby. The Blenheim, the breed you are more likely to see, is brown and white', explains Guy's proud owner Patsy. 'He means the world to me and definitely helps with my mental health.'
Patsy has learned how to send photos of Guy to her friends from her phone as a result of taking part in our digital training programme. We offer one to one support to local residents over the phone, by email, and via digital platforms such as Zoom and Whatsapp. 
Sharing photos with friends by phone is a great way to feel connected and to express the things that are important to us, especially during lockdown. The same set of digital skills also give us better access to health services. That's because health services have been offering appointments remotely, and patients are sometimes asked to send in photos of their symptoms to assist the doctor in making a diagnosis over the phone.
Our digital champions also showed Patsy how her wireless earphones could make things easier for her (she already owned these but wasn't sure how to use them). Her earphones allow her to use her phone hands-free. This means she no longer needs to hold her phone to speak, which helps with her arthritis and makes it easier for her to call her friends more.
'I often look up from a book or tv and find him gazing at me like this.'
New tricks
Making so much progress has given Patsy the learning bug. Now she is getting to grips with video-conferencing. She gave us a glowing report on her most recent session with David, one of our volunteer digital champions.
'David and I have had a great session. Getting photos down and deleting them. Lots of laughing. Then we went to iPad and we got Zoom working, The session ran over, but he insisted he'd keep going until we cracked it, and we actually saw each other! We were both so excited.'
Just like sending photos by phone, getting on zoom is another great way to keep in touch with friends and family. And just like sending photos by phone, confidence with video-conferencing is a digital skill that gives us better access to health services.  Doctors, therapists and other health professionals are seeing patients remotely over video during the coronavirus pandemic. Although it's not suitable for all, some patients may find virtual appointments more convenient even after the pandemic is over. By developing your digital skills you'll have more choice in how you access health services in the future.
Our digital support service
It's more important than ever to have digital skills. We can help you to get online and connect to friends, family and the services you need to stay healthy.