Healthwatch supports community organisations to go digital in the fight against coronavirus
Healthwatch has been providing digital training and support to local voluntary organisations to help them to better support their volunteers and the communities they serve whilst social distancing measures are in place.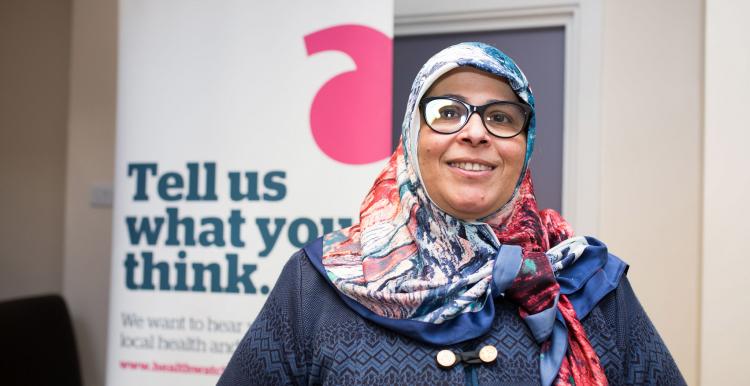 Majida Sayam is the Chair of Jannaty, a community organisation based on Seven Sisters Road. Jannaty's mission is to empower women and girls from disadvantaged black and minority ethnic backgrounds (though they welcome women and girls from all walks of life). Many of the women that the organisation supports belong to Arabic speaking communities.
We've helped Majida and a group of her volunteers to get to grips with the video conferencing tool Zoom. As a result she's been able to continue to run high quality activities during lockdown, supporting the health and wellbeing of local people.
Celebrating Eid online
Eid is a religious festival celebrated by Muslims worldwide that marks the end of Ramadan. It is an important time for people to come together. This year that wasn't possible because of social distancing. Instead, people came together virtually.
Jannaty hosted a four hour celebration on Zoom. It was attended by over 40 women, some of whom were living in different countries. Despite all the hardships it has caused, the pandemic has motivated many of us to learn the digital skills that allow us to share these festive events with people who could not normally be part of them because they live far away.
'It was a very good experience for us to do the Eid party on Zoom', reflects Majida. 'It was very nice and we learnt a lot. For example, letting people into the Zoom meeting actually takes a long time. So we used that learning when we started the sewing classes.'
Virtual sewing group is helping to make public transport safer
Since the early days of lockdown, Jannaty have been working with a group of other community organisations, making face coverings to distribute to local people so they can travel more safely on the bus and on trains. They have made 700 face coverings so far.
Now that Jannaty's sewing group is unable to meet in person, meeting virtually has meant they can continue to socialise as they work on the masks at home. Some of the women have found the material difficult to work with. It's been really useful to be able to come together online to share progress and discuss techniques that are working well.
Members of Jannaty's sewing group meeting together online
Going digital to share trustworthy information about Covid-19
There's a lot of good information available about coronavirus, and much advice and guidance provided by the NHS and government websites. However, if English isn't your first language it's possible that none of this is available to you. Jannaty is working with Healthwatch, together with other organisations that support migrant communities in Islington, to help tackle this problem.
Information that residents need will be provided in their first language, whether that's advice about shielding or children going back to school, or support to start shopping online or stay connected to friends and family using digital platforms.
All the organisations involved have worked with Healthwatch on digital inclusion projects. Information will be shared with local residents in the following ways:
Zoom meetings
Whatsapp recorded messages
Videos
Texts, email and phone calls
Socially distanced face to face conversations
The participating organisations will each provide coronavirus-related information and support to at least 75 local residents and their households. Each household will have different circumstances and different needs. This will give us a much better overall understanding of the needs of migrant communities in Islington during the pandemic.
National Lottery Awards For All
Our work to support community organisations to increase their digital capacity has been made possible thanks to funding from National Lottery Awards for All England.