Healthwatch celebrates the return of face-to-face digital support sessions
It's been a big week for our digital support programme and our wider work to promote digital inclusion. Philippa Russell, our Community Link Worker, shares her thoughts.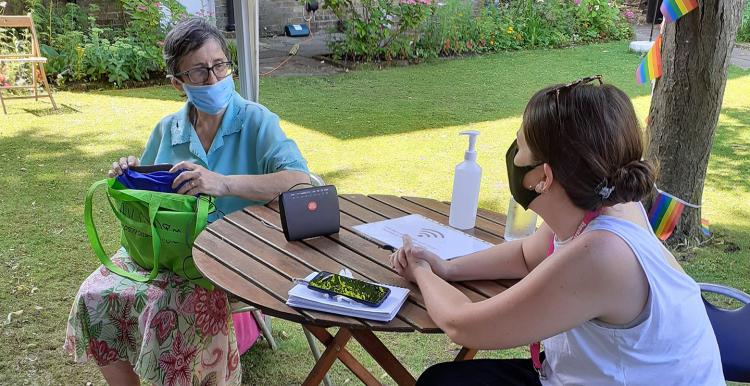 Digital Champion and learner outside at Manor Gardens as we began offering face-to-face training sessions again earlier this week.
Digital support for individuals
On Monday we emerged blinking into the sunlight after 18 months of Covid restrictions. We held our first face-to-face digital support sessions in the garden at Manor Gardens on a glorious summer's day. These sessions are for residents who need help with their devices or with an online activity of some kind, but find it difficult to engage with our remote support (remote support from one of our Digital Champions typically takes place over Zoom or a phone call).
We found a nice shady spot to set up the tables and welcome our first learners. Many COVID-19 restrictions have just been lifted but we need to remain cautious as we resume face-to-face activities. Participants are still being asked to wear face masks, and our sessions will take place outside when that's practical (indoor sessions will take place in well-ventilated rooms with safety screens in place). Physical distancing is maintained. These precautions are necessary because we often work with vulnerable residents. Our priority is to keep people safe and avoid placing undue pressure on NHS services.
We're proud we've been able to adapt our working practices to support residents remotely during the pandemic, but there's an undeniable joy in resuming face-to-face contact. It's so much easier when you can see the person you're helping and feel that human connection. Progress can be quicker too. I was able to show the learner I was supporting how to reveal passwords on her smartphone while she was typing them, so she could see she was putting them in correctly (those little keyboards are fiddly). It's a simple trick but so useful, and much easier to demonstrate in person. The other thing to mention is that I've spent so much time talking to Keith, one of our Digital Champions, on Zoom over the past year but I'd never actually met him face-to-face. It was lovely to meet in person.
The session ran for two hours and four learners each got an hour slot for one-to-one support. Everybody appeared to get a lot out of it and it gave me a lot of hope for how we'll be able to work going forward. If you're interested in accessing support you can give me a call or send me an email. Our page on digital support for individuals lets you know what to expect.
Philippa Russell - Community Link Worker
Bridging the digital divide
More and more of our everyday tasks now take place online. The job of making sure none of us get left behind by this societal shift is a big one. We need to make sure everyone gets fair access to services and the chance to improve their digital skills if they want to. We won't be successful unless we all work together. On Tuesday we celebrated the launch of our report 'From Digital Exclusion to Inclusion' by inviting commissioners, residents, community groups, and specialist organisations together to discuss the ways we can work together in Islington. Here's a (very) brief flavour of two of the sessions:
Mercedes from Mer-IT explained that there are a huge number of laptops in the possession of statutory organisations, local companies, and individuals that are no longer being used and are no longer needed. We need to do a better job of making use of these resources. Her organisation trains young people to recondition laptops which they can then redistribute to digitally excluded residents. As it happens, one of the learners we supported in our face-to-face session has recently received a laptop from Mer-IT, so the scheme definitely works. If you're interested in improving your digital skills but have been put off because you don't have your own device, let us know. Mercedes and her organisation may well be able to help.
Hilary from the Good Things Foundation also spoke at Tuesday's event. The Good Things Foundation is a national charity that campaigns for digital inclusion. They first got to know us because they were impressed by the safeguarding processes we'd put in place to protect our volunteer Digital Champions. Hilary reminded us that the younger generation can also be affected by digital exclusion. People have lost their jobs during the pandemic or have young children to support and need digital skills to prepare a CV, look for jobs online, and prepare for interviews. If you don't know how to upload your CV to an online form you'll end up disadvantaged in the job market.
It was a really interesting event and we hope just the beginning of a larger conversation that needs to take place in the borough. If you've got a view of your own to share, or you'd like to learn more about our digital support programme, please get in touch.