Our annual report 2020-21
We engaged with and supported 2,189 residents with issues related to the COVID-19 pandemic this year. 781 people shared their experiences of health and social care.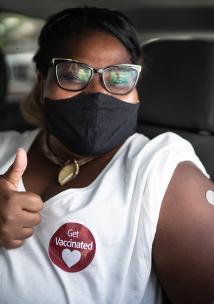 Summary
Read our annual report to find out more about our work between April 2020 and March 2021.
About us
We are the independent champion for people who use health and social care services in Islington.
We are here to find out what matters to people, and help make sure their views shape the support they need. We also help people find the information they need about local services.
Our year in numbers
781 people shared the health and social care story with us
922 people accessed the Healthwatch advice and information service with questions about local support
15,000+ visits to Covid-related information on our website
We published 5 reports about local people's experiences of services and the improvements they would like to see.
Highlights from the year
Supporting people to get online
We worked with our partners to support residents who were digitally excluded. We made a total of 209 referrals into our digital support services.
Gathering feedback about accessing health services by phone or online
Over 200 people shared their views of remote and online health appointments. We learned about the ways in which a 'digital first' approach to accessing services can make existing health inequalities worse.

We shared all the feedback with commissioners to help them decide how health services can be offered most effectively going forward, to ensure that no one gets left behind.
Better access to mental health support
We told commissioners that the needs of established migrant communities in Islington were not being fully considered by our existing mental health commissioning structures. We were invited to co-chair the newly created Inequalities Sub-Group of the Mental Health Partnership Board. As a result of our work:
Commissioners have asked all GPs to actively support residents who don't have English as a first language through the referral process for mental health support, rather than expecting them to self-refer.
Patients on waiting lists for assessments from mental health services will be able to access support prior to being formally assessed. Waiting lists can be very long, so this change should be a big help for many patients who are struggling to manage.