Our annual report 2019/20
Last year, we engaged with over 2300 residents. 650 people shared their stories about health and social care, and we made 25 recommendations to services about the improvements that people would like to see.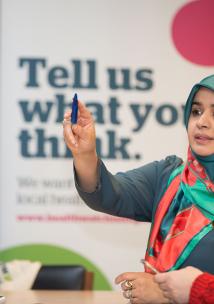 Read our annual report to find out more about our work between April 2019 and March 2020.
About us
We are the independent champion for people who use health and social care services in Islington.
We are here to find out what matters to people, and help make sure their views shape the support they need. We also help people find the information they need about local services.
Our year in numbers
650 people shared the health and social care story with us
1,141 people accessed Healthwatch advice and information at our community events or contacted us with questions about local support
3,931 people engaged with us through our website, with 411 subscribers to our email newsletter
We published 7 reports about local people's experiences of services and the improvements they would like to see.