Our annual report 2019/20
Last year, we engaged with over 2300 residents. 650 people shared their stories about health and social care, and we made 25 recommendations to services about the improvements that people would like to see.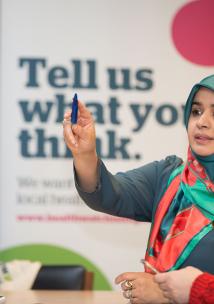 Read our annual report to find out more about our work between April 2019 and March 2020.
About us
We are the independent champion for people who use health and social care services in Islington.
We are here to find out what matters to people, and help make sure their views shape the support they need. We also help people find the information they need about local services.
Our year in numbers
650 people shared the health and social care story with us
1,141 people accessed Healthwatch advice and information at our community events or contacted us with questions about local support
3,931 people engaged with us through our website, with 411 subscribers to our email newsletter
We published 7 reports about local people's experiences of services and the improvements they would like to see.
Highlights from the year
Patient transport services: holding decision-makers to account
When a new patient transport service launched in 2019, residents who had previously been entitled to support found they were no longer eligible, and family carers were no longer allowed to accompany vulnerable relatives.
We supported individuals to successfully challenge decisions to refuse them transport.
We drew attention to public concern in local and national media
We met with commissioners to push for change
Supporting residents in social housing and sheltered accommodation to get online
Our staff and volunteer digital champions helped 44 older residents to develop confidence using their smartphones and other devices:
We showed residents who found it hard to text or touch small icons on the screen how to use voice activated technology
We helped tenants to register on the housing portal that allowed them to pay bills or request repairs online
We showed people where to access trustworthy sources of information online, and how to search the web and bookmark the sites they felt would be most useful to support their health and wellbeing
Finding out about oral health in our care homes
Healthwatch volunteers visited six local care homes to find out whether residents were well supported to maintain healthy mouths and teeth:
We spoke to 46 residents, 24 residents and 31 members of staff
We found that residents were well supported, and good practice was in evidence across all the homes we visited
We felt that residents could have more access to dental check ups, and that relatives could be given more information about mouth care and oral health issues
We produced a report and shared our recommendations with all the homes.