Will you be getting the flu jab this year?
Dr Peter Wilson, consultant microbiologist at University College London Hospitals (UCLH), answered questions from Healthwatch about the merits of the flu jab.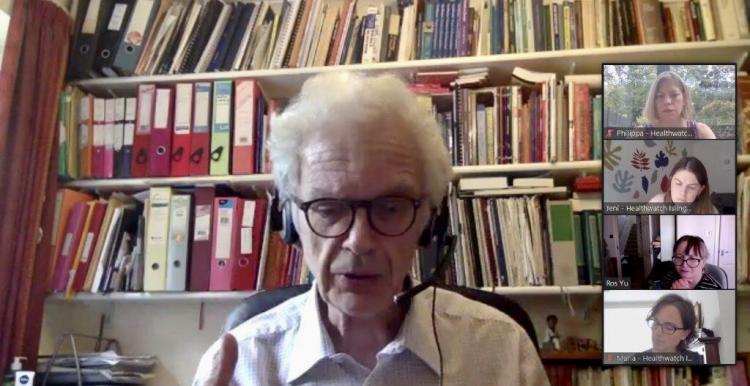 There is a lot of misinformation on the internet. Yes, you should have the flu vaccine this year. It is safe and should protect you against the flu.
Is it safe to have the flu vaccination this year?
At our 7 July meeting, 'Cleaning the house safely to reduce the risk of transmission of Covid-19 at home', people had questions about the safety of the flu vaccination. Scare stories have been circulating on the internet and on social media. Dr Wilson stressed that the flu vaccine was safe, and that it was a good idea to have the vaccination.
"I would be inclined to tell people not to read all this misinformation that is available on the internet. The protective value of the vaccine is good. Sometimes they get it wrong in terms of the strain of virus we are due to get during that autumn or winter, but mostly they get it right. I always have the flu vaccine myself. 
 
Flu (influenza) is a different virus to Covid-19 so the flu injection won't protect you from Covid-19, or make you more likely to get it. However, if you do get seasonal influenza the symptoms may be mistaken for Covid-19, and if you are ill with the flu you may be more susceptible to getting Covid-19."
Will the vaccines being developed for Covid-19 be safe?
There are lots of candidates for vaccines, so Dr Wilson was reasonably confident that there will be a vaccine available within six months to a year. However, with SARS and MERS (two coronaviruses that have emerged in recent years) vaccines were not successfully developed. The difference this time is that far more funding and resources have been made available to find a vaccine.
Prof Wilson said that the vaccines being developed in the UK by Imperial College and Oxford University would absolutely be safe. He would have no worries about secondary effects from these vaccines. The real issue with these vaccines is whether they will work in terms of providing protection against Covid-19. We will have to wait and see.
Will you be getting the flu jab this year? 
At our 8 June event, 'Accessing health and care services as we come out of lockdown', we asked participants whether the pandemic had had an impact on their attitudes towards the flu jab. Commissioners, health professionals including local GPs, and local residents took part in the conversation:
Some residents said they would definitely have the flu jab this year.
One participant said they would need to think about it, as they were unsure about what was injected into the body. They felt it was important that communities are given a clear source of information about this, as there is a lot of different information out there.
One person said her mother is offered the flu jab but she always gets ill after it so she is not inclined to have it.
Some shielded patients were particularly concerned about going out since they have kept well during lockdown by not mixing with people. This will be a problem if they need to visit a practice to get the flu jab.
There was a discussion around some of the challenges for health services in encouraging people to have the flu jab this year. In the past GPs have invited people to the surgery on a Saturday for coffee and a cake, and have given many flu jabs in this way. However, that's not possible at the moment.  
It was felt that the key point to emphasise was that 'you should have the flu jab as it will protect you from being more vulnerable against Covid'.
Flu jab survey
Are you planning to get the flu jab this year? What factors are influencing your decision? Our survey takes just seconds to complete.