Local dentists and dental providers answer your questions about NHS dental services
Our September event gave residents a chance to put questions to dental professionals and share their experiences of services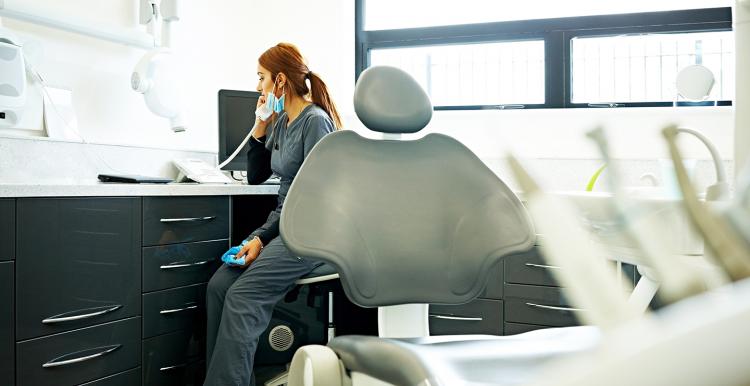 Local residents have been finding it almost impossible to join a dental practice as an NHS patient in recent months and patients with, what they consider to be, serious dental needs are having to wait for treatments. Earlier this month we hosted an information event on dentistry to give professionals a chance to share tricks and tips about mouth care, and give attendees a chance to share their experiences and ask questions.
Why has it been so hard to get an NHS dental appointment?
The shortage of NHS appointments isn't the fault of individual dental practices. The bigger picture is that not enough NHS dental provision has been commissioned nationally. This means that there is insufficient supply to meet demand. This was already the case before the pandemic, but the pandemic has made that situation much worse. The dentist Karla Nathan (London Dental Council) explained why:
Dental procedures which are classed as AGPs (aerosol generating procedures) have a mandatory wait time afterwards (which varies according to the nature of the procedure). The treatment room must be left empty for a defined period to give particles time to settle before the dental nurse can come and wipe down/disinfect and get the room ready for the next patient. In addition, staff wear PPE (personal protective equipment) and need to take breaks from this as it restricts their breathing. This means dentists can offer fewer appointments each day.
A patient with a broken tooth that is giving them no pain may have already waited two months to be seen by their dentist, but the moment a patient with a more urgent need turns up (for example an infection requiring root canal treatment) that first patient will get bumped back down the list. The net result is that it's harder for the patient with the broken tooth to get treatment, even though they have a need.
Due to the lack of ongoing and/or preventative dental care and scarcity of appointments, there has been an increase in emergency appointments. Dental surgeries have to set some capacity aside for these patients. In addition, these emergency appointments are taking longer than they used to, as patients are presenting with higher levels of need.
There are staff shortages. It's become very difficult to recruit dental nurses in particular.
Top tips for maintaining oral health
Dentist Karla Nathan gave us some tips around tooth care:
Soft brushing is good (over-brushing can damage teeth and gums).
Electric toothbrushes sometimes have an indicator that lets you know when you are over-brushing.
Spit after brushing your teeth but do not rinse your mouth out with water. You don't want to wash away the toothpaste as it is still active in protecting your teeth.
Sensitivity can result from over-brushing. For sensitive teeth, you can apply a small amount of Sensodyne (or any other toothpaste that treats sensitivity) to your teeth and leave it for 5 minutes.
If you wear dentures do not leave them in your mouth overnight as this can damage your gums.
You can buy denture glue at the pharmacist as an interim measure if your dentures need better fixing.
You can get disclosing tablets from the pharmacy, to check if you are cleaning well and if there is any plaque.
Ulcers usually heal naturally but you can get products at the pharmacy, such as Bonjela.
A healthy diet with less sugar will keep gums and teeth more healthy.
Dental services from Whittington Health
We were also joined by two members of staff from Whittington Health Dental Services; Andrew Read, Consultant and Clinical Director of Dental Services, and Ayesha Masood, Oral Health Improvement Lead, Community Dental Services. They spoke about the services they offer and, together with Karla Nathan, answered questions from residents.
Questions and answers
Are you suggesting that the present operational and business model used by the dental service is not suitable for the pandemic time? Does this mean that there is a need to rethink and change this model as the ongoing pandemic may not be the last one we would face in the future?
Yes. Dentists have been saying for a long time that the current model doesn't work and reduces access. There were problems of access before the pandemic and dentists have been waiting for reform of their contract for the last 10 years. 
---
If the current model is not working then what solution do you offer to fix the model. How do you see opening dental wings in all NHS hospitals and training more dental nurses to perform simple dental treatments independently as solutions to clear the backlog?
Training more dental nurses to provide simple dental treatments can work. I'm not sure how this can be put into practice with current funding levels.
---
Are NHS dentists required to provide cleaning or can they insist on people paying £55 for a private hygienist at the practice?
If the cleaning is needed clinically it should be done on the NHS as long as the practice has NHS capacity.
---
Thanks that's helpful. When you say 'as long as they have capacity' what does that mean? I am registered with them as an NHS patient. Does that mean they have to give it to me? Pre pandemic the dentist herself used to do cleaning but that's not offered anymore.
NHS capacity varies between practices. They might be full. Since 2006 registration no longer exists (now you register for a course of treatment rather than with the practice itself – that being said dentists have been prioritising their existing patients where possible during the pandemic).
---
You spoke about dental care in care homes. What about elderly people who are housebound and have dementia. Do you need a specialist dentist?
Yes, you can access the community dental service. Details on how to be referred are on the Whittington Health website [referral forms are at the bottom of this webpage].
---
You said have less sugar and eat more fruit but there is sugar in fruit.
Sugar in fruit is not as bad as white sugar.
---
You spoke about using painkillers to manage pain but most [many] people can't take pain killers because of their health conditions, if they have high blood pressure for example. What can they do if they're in pain?
There are usually a good range of painkillers. For dental problems, if ibuprofen isn't suitable then you can have paracetamol. If you have problems with both of these you should talk to your GP. However if the pain persists after taking them do not just take more tablets, you need to see a dentist.
---
I went to a dentist. They wanted to charge me £35 for the first appointment then £65 for the treatment. It's not fair for people on benefits (disability) like myself.
The HC1 form can give you an exemption from certain dental costs.
---
What about having a learning disability nurse in dental services. What about fear of the dentist?
The Community Dental Service has staff who are trained and very experienced in managing patients' anxiety, including anxiety in people with learning disabilities. We have previously involved learning disabled people in staff training sessions and in producing leaflets with pictures.  
---
I went to a community dentist a couple of weeks ago. I have to sign a consent form every time I go. Would that be an HC1 form?
No it's not the same. You have to consent to every course of treatment you receive on the NHS.
---
When you go to a dentist to register as an NHS patient and they say they can't take any more patients, who fixes that level and how is it fixed?
The local NHS commissioning team decides how much is allocated to individual dental practices but the overall level of service available is based on 2006 [the funding available is based on estimated levels of demand from 15 years ago] so it is not completely down to them. NHS allocations are for the year but then each dental practice will distribute that in monthly allocations. For example, they might do 1000 checkups per month, and anything beyond that they won't get paid for.