Information on Coronavirus
Read the latest advice and information from NHS England and Public Health England about the Coronavirus.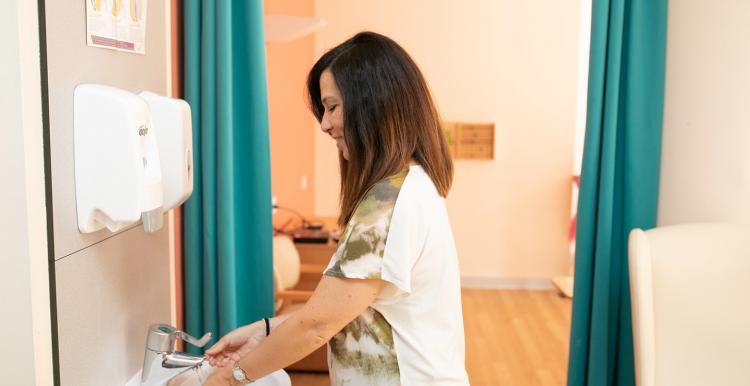 Correct as of 6/08/2020
What you can and can't do
The government has set out its plan to return life to as near normal as we can, but in a way that continues to protect our communities and our NHS.
Find out more about what you can and can't do including information about travel restrictions, who you're allowed to meet with and what shops and business can now open.
If you do go outside or meet with others, remember that it's still important to social distance.
If you think you might have coronavirus
Symptoms
A high temperature
A new, continuous cough

Anosmia - this is the loss of or a change in your normal sense of smell. It can also affect your sense of taste as the two are closely linked.
What to do if you have these symptoms
Do not go to a GP surgery, pharmacy or hospital. You should stay at home and self isolate.
Only call 111 if you cannot get help online.
You must get a test. Find out more and book.
Use the NHS 111 online coronavirus service if:
You feel you cannot cope with your symptoms at home
Your condition gets worse
Your symptoms do not get better after 7 days
How to self isolate if you or someone in your house has coronavirus
If you have symptoms of coronavirus you should stay home and self isolate. What this means is you should not leave your house, even to do shopping, to avoid spreading the virus.
If you live alone, you should stay at home for 10 days from when your symptoms started. If you live with others, then you must stay at home for seven days from when your symptoms started. However, everyone else in the household who is well must stay at home and not leave for 14 days.
For more information about when to self isolate and what this means for families visit the Government website.
How to avoid catching or spreading germs?
Do:
Cover your mouth and nose with a tissue or your sleeve (not your hands) when you cough or sneeze.
Put used tissues in the bin straight away.
Wash your hands with soap and water often – use hand sanitiser gel if soap and water are not available.
Try to avoid close contact with people who are unwell.
Don't:
Do not touch your eyes, nose or mouth if your hands are not clean.
Advice for people at high risk
If you're at high risk of getting seriously ill from coronavirus, there are extra things you should do to avoid catching it. These include:
Not leaving your home – you should not go out to do shopping, visit friends or family, or attend any gatherings
Avoiding close contact with other people in your home as much as possible
For the full list of people who are considered high risk visit the Government website.
Getting tested for Coronavirus (COVID-19)
Guidance on coronavirus testing, including who is eligible for a test, how to get tested and the different types of test available is available on the Government's website.
Face masks - when to wear one
To find out which settings require you to wear a face mask click the link below.
You do not need to wear a face covering if you have a legitimate reason not to. This includes (but is not limited to):
young children under the age of 11 (Public Health England do not recommended face coverings for children under the age of 3 for health and safety reasons)
not being able to put on, wear or remove a face covering because of a physical or mental illness or impairment, or disability
if putting on, wearing or removing a face covering will cause you severe distress
if you are traveling with or providing assistance to someone who relies on lip reading to communicate
to avoid harm or injury, or the risk of harm or injury, to yourself or others
to avoid injury, or to escape a risk of harm, and you do not have a face covering with you
to eat or drink if reasonably necessary
in order to take medication
if a police officer or other official requests you remove your face covering
Further information
NHS England had produced a list of common questions about coronavirus, covering advice for you and your family, how it's caught and spread, prevention, self-isolation, testing and treatment and foreign travel. 
Other places for information: