Sue and Geraldine volunteer for our Enter and View team.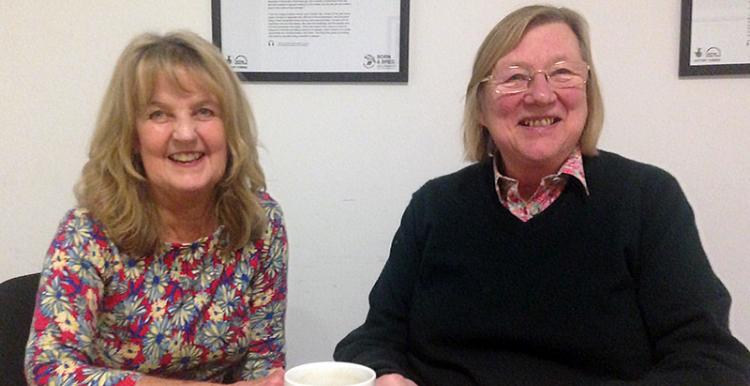 Healthwatch Islington is able to visit health and care services, observe how they are being delivered, and speak to the people using those services, and the staff, to find out what they think of them. This type of visit is called Enter and View.
Sue and Geraldine are two members of the Enter and View team and have visited a number of care homes in the borough on behalf of Healthwatch.
Having the facility to go in and see what's happening and talk to the residents about their experiences directly is good isn't it? Often they're not asked these days or if they are they're just expected to tick a box and not actually talk to somebody. It's about treating people as individuals.
What we look for on our visits
'In one care home the residents liked to sit by the windows looking out onto the street. The staff said it was because they see the children walking to and from school.'
'Because they never see children normally. Watching those children gave them immense pleasure, they were really captivated. And it was good that the staff had put the chairs near the window in order to facilitate that.
'I think the Care Quality Commission [the body that carries out formal inspections of
care homes] probably go into it more for clinical and medical probing, whereas we go
into it more to see that people are treated as well as possible, and that they're enabled
to fulfil their lives as well as they're able, with whatever they've got wrong with them. I think the two sides complement each other quite well.'
We check the physical environment
'Most care homes have at least a garden or an outside area. I suppose for safety reasons they don't allow the residents just to wander out on their own and come back. But often the doors are locked and the outside areas aren't well used.'
'There was a garden with raised beds in one of the care homes we visited. It had one shrub in maybe, nothing else. Lots of people, older people in particular, have done gardening in their lives and it would be really good to get them to do a little bit of gardening in those raised beds. But there weren't any flowers at all.'
'It's a real lost opportunity. There must be gardening groups here in Islington who'd be very happy to go along to that care home to help and to participate.'
We speak to the staff as well
'Sometimes you get somebody who's really enthusiastic, and you can see that it's really
their vocation. They're really enjoying what they're doing trying to make things better for
people and they know their residents. It's quite rewarding when you come across somebody like that. I don't know that those people ever get heard otherwise.'